Cobb EMC completed its annual member-wide customer satisfaction survey, where over 2,400 members were asked to participate. The member responses were sent to the American Customer Satisfaction Index (ACSI®), a company that measures customer satisfaction across multiple industries throughout the entire United States1. For 2023, Cobb EMC received an ACSI score of 92 out of a maximum 100.
 
"As an electric cooperative, we focus on how we can improve the experience our members have with us, and this ACSI score is a direct result of that," said Kevan Espy, President and CEO of Cobb EMC. "I am proud to work alongside the best team of employees that are passionate about serving our members every day."
 
Cobb EMC's score is higher than the combined average of 74 for all cooperative utilities measured by the ACSI, and places Cobb EMC 20 points higher than the average investor-owned utilities score of 72 as well as 21 points higher than the average municipal utilities score of 71, per the 2023 ACSI Syndicated Utility study. For more information, visit www.theacsi.org.
 
"This outstanding ACSI score is proof that our members understand the co-op difference," said David Tennant, Chairman of Cobb EMC's board of directors. "Our members own a piece of this company and the level of service our employees are able to provide to them is the reason we are built a little differently than other utilities."
 
The ACSI is the only national cross-industry measure of customer satisfaction in the United States. Each year, the ACSI uses data from interviews with roughly 300,000 customers as inputs to an econometric model for analyzing customer satisfaction with more than 400 companies in 46 industries and 10 economic sectors.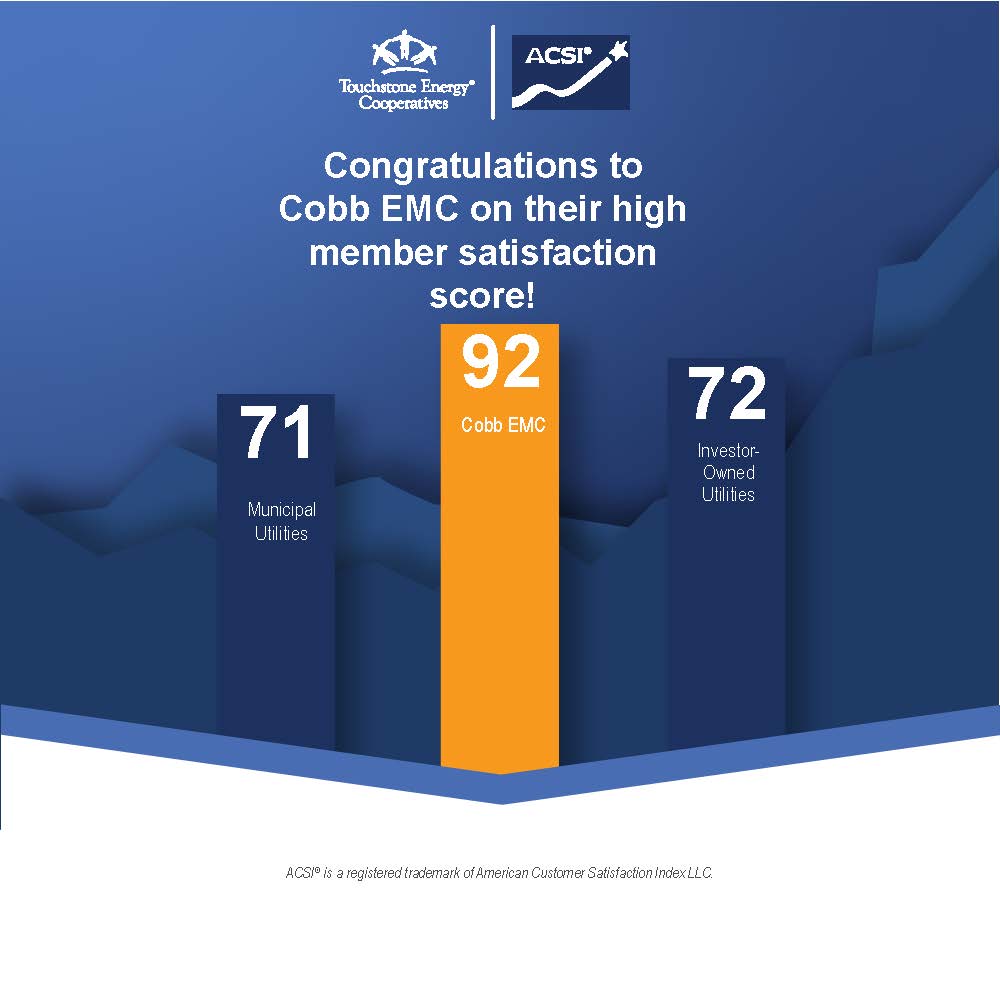 Media Contacts:

Cobb EMC | Mike Codichini | 678-355-3058 | pr@cobbemc.com 
Facebook | Instagram | YouTube | Twitter | LinkedIn 
About Cobb EMC
Cobb EMC is a not-for-profit, member-owned electric cooperative. The company safely delivers reliable electricity to more than 200,000 residential and commercial consumers in Cobb, Bartow, Cherokee, Fulton, and Paulding counties. Cobb EMC is consistently recognized for low-cost, reliable power, a commitment to renewable energy, and giving back to the communities it serves. Cobb EMC is one of the largest EMCs in the nation, and the company's wholly-owned subsidiary Gas South is a leading provider of natural gas in the Southeast. For more information, visit www.CobbEMC.com.