Cobb EMC believes in the power of a clean energy future. For more than 10 years, we've been investing in sustainable technology that supports reliability and affordability for our members. Programs are available for our members who want renewable options, so we can get to a cleaner future together. 
2030 Clean Energy Goal 
It's our responsibility as your neighbor and your co-op to do our part to protect our environment and community. That's why we have a goal to increase clean energy by 2030. 
Reduce carbon emissions by 75%
We will reduce the carbon in our energy mix and reach our clean energy goals by 2030 while keeping rates low for our members. 
Increase renewable energy portfolio by 200%
We will achieve this goal by using our long-term power supply strategy, ensuring that we have an adequate and diversified portfolio to support the energy needs of the future.
Our Energy Sources 
As a distribution cooperative, we do not generate power. We purchase electricity through several different suppliers and power purchase agreements. Economic decisions are made hourly to ensure the lowest cost resources are being used. After purchase, the power is transmitted across high-voltage lines and onto our distribution system. Our power comes from a diverse mix of energy sources to provide reliable, safe, affordable and sustainable electricity to our members.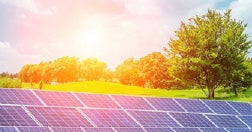 Renewable Energy
Renewable resources, including hydro, pumped storage, green power and solar, account for approximately 15 percent of Cobb EMC's energy mix.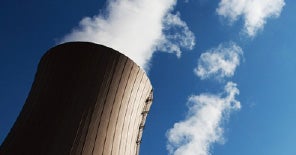 Nuclear
Nuclear power accounts for approximately 38 percent of Cobb EMC's energy mix. Environmentally-friendly nuclear power is a primary source of electricity in Georgia.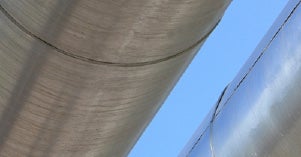 Fossil Fuels
Coal and natural gas account for approximately 47 percent of Cobb EMC's energy mix. Natural gas, a cleaner source of energy, provides a majority of the mix. 
Corporate Environmental Responsibility
As a not-for-profit cooperative, we are dedicated to providing our members reliable electricity at the lowest possible price. But we are also committed to being a good corporate citizen and to improving our local communities. Our environmental commitment is no exception.
We've diversified our generation mix and expanded our renewable energy portfolio. Our corporate recycling programs and air quality improvement efforts benefit our local neighborhoods, while our conservation education programs help you bring sustainable practices to your homes and families.
Cobb EMC is proud to reduce our environmental impact while still keeping costs as low as possible for our members. 
Cobb EMC's renewable energy portfolio includes: solar, hydro, biomass and reclaimed methane gas from landfills.
Electronics recycling: Cobb EMC recycles retired meters, load management switches, computers and other electronics to help keep landfills clear. 
General recycling: Cobb EMC recycles several materials from across our campus including: aluminum, copper, steel, plastic, wood poles, construction debris, cardboard, lamps and ballasts.
Recycling events: Cobb EMC hosts events so members can recycle old electronics and dispose of old documents in a safe, secure and eco-friendly manner.
AMI meters reduce trucks on the road. AMI meters offer two-way communication, meaning we no longer have to send employees out to manually read meters. This means fewer miles driven, fewer trucks on the road and cleaner air throughout our service district.
Electric vehicle charging stations improve air quality. Each mile a car drives creates one pound of air pollution. Electric vehicles (EV) help reduce this air pollution, and Cobb EMC is proud to offer an EV charging station for members to use while they are at the cooperative to pay their electric bills.
EV rebates. We offer rebates to help local companies install EV charging stations at their business.
Cobb EMC works to educate all of our members on ways to save energy and money. Learn more about ways to conserve.
Clean energy. We make it easy for members to support sustainability and solar energy growth in our community with Renewable Energy Credits (RECs). Our Green Energy for a Penny program allows you to participate in a clean energy future for just 1 cent per kWh.
Sustainable operations. Cobb EMC is one of the first electric co-ops in the nation to install an on-site solar and battery storage system to help power our operations and contribute to a greener grid. We also offer an EV charging station on-site for our members, employees and fleet EVs.
Solar Flower Garden: Our Solar Flower Garden is a gathering place for our community that offers educational opportunities, events and EV charging. And, it's free to visit!
Doing Our Part for a Clean Energy Future