EV Charging for Business
Grants for local businesses.
Lead the charge with Cobb EMC's EV Grant Program
What is Cobb EMC's EV Grant Program? Cobb EMC's EV Grant Program provides funding to businesses, property owners, multifamily unit owners and government agencies who are interested in installing electric vehicle charging stations at their place of business. The program grants $500 to $5,000 to recipients to assist with the cost of purchasing and installing EV supply equipment (EVSE). Grant funds are allocated until all funds are exhausted, and the grant amount will vary based on each application, with preference given to proposals that promote public access to EV charger(s) or that benefit the greatest number of EV users. The goal of the EV Grant Program is to encourage the development of EV charging stations within Cobb EMC's service territory and to help you prepare for your future customers. See if you are ready to get started with our Commercial Charging Grant checklist. 
How can I get started? 
Frequently Asked Questions
Simply put, EVs are the cars of the future, and they are here today. If your business is not already prepared for electric vehicles, you could be falling behind the competition. The city of Atlanta recently passed an ordinance which requires at least 20% of parking spaces in new commercial and multifamily parking lots to be "EV ready." While this ordinance does not apply to much of Cobb EMC's service territory, the message is real: EVs are coming and we need to be ready for them. In addition to providing crucial infrastructure to the EV ecosystem, other benefits of installing EV charging at your business include:
Providing an added benefit to your employees and customers who are already driving EVs.
Attracting new talent and customers who are green-minded.
Positioning your brand as "environmentally conscious," especially if your EV charger will be in a visible location.
Promoting EV adoption and acting as a thought leader, setting the example for others in your industry.
When it comes to what type of charger you should install, you have two options for Cobb EMC's EV Grant Program: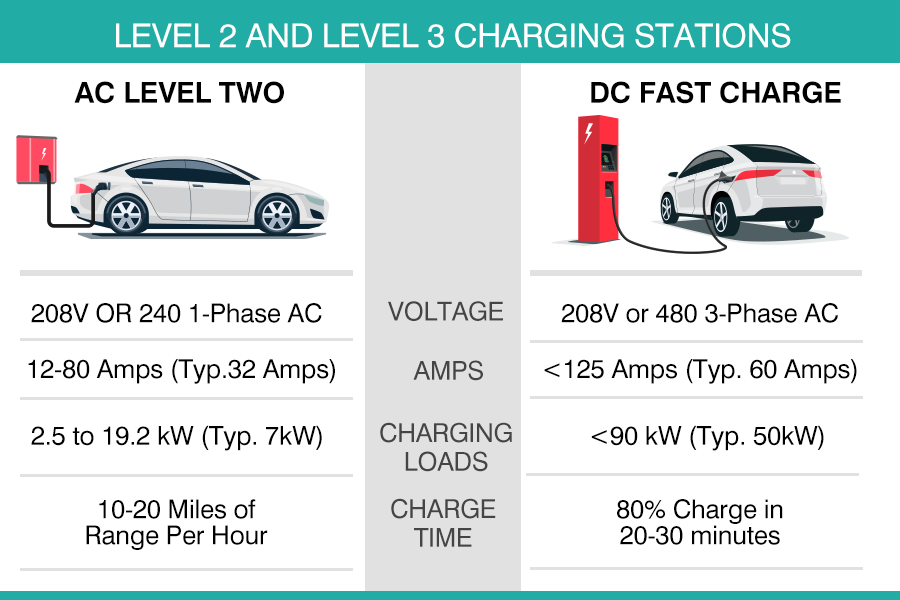 Cobb EMC is offering multiple Level 2 and Level 3 electric vehicle charger grants to non-residential Cobb EMC members, including, but not limited to, businesses and commercial property owners, multi-family unit owners and operators, and government agencies.
Grants are only available to eligible non-residential Cobb EMC members.
The EV charger(s) under this grant application must be installed at an address with an active meter receiving Cobb EMC electric service.
The applicant may submit one application per member address. Any application that is incomplete, illegible, or inaccurate will be returned to the contact named in the application. Applications will be accepted until all funds allocated for the EV Grant Program are exhausted.
The EV charging station must have been installed and in operation on or after January 1, 2019.
The EV charging station must be protected with a wheel stop or a bollard.
The EV parking space must be reserved for EV only and must be branded with conspicuous "Electric Vehicle Parking Only" signs.
All installations are subject to verification by Cobb EMC prior to the distribution of the grant award. In order for Cobb EMC to verify the installation, please provide copies of the following documents following your purchase and installation: 

All invoices for equipment and installation of EV charger(s) described in the application. The invoices must specify the purchase date and the date of the installation.
Photographs of the installed EV charger station with Cobb EMC branding clearly visible.
All necessary building permits authorizing the installation and operation of installed EV charger(s).

Each applicant receiving a grant award agrees to place Cobb EMC branding on the EV charging station. The branding must be placed in a conspicuous location on the front of the EV charging station.
EV charger vendors and EV charging businesses are not eligible to receive a grant award under this EV Charger Grant Program.
EV charger(s) must be installed by a qualified and licensed contractor in accordance with all state and local codes, permitting, and inspection requirements.
Cobb EMC will not own or maintain any EV charger(s) receiving a grant award under this EV Grant Program. Maintenance and repair of the EV charger(s) is the responsibility of the applicant receiving the grant and/or the installer. Any applicant receiving the grant agrees to keep each EV charger in working condition for a minimum of three (3) years from the commercial operation date of the EV charger.
The applicant will pay for the energy used by the EV charger(s) on the applicant's electric bill. Cobb EMC will not pay or credit applicant for the energy used by the EV charger(s).
The maximum grant award is $5,000. The minimum grant award is $500.
The grant award will be distributed via check to the address provided on the application within 8 to 12 weeks after Cobb EMC is able to verify that the installed EV charger(s) match the description provided in the application.
Applicant agrees that Cobb EMC reserves the right to request additional documentation prior to distributing the grant award. Cobb EMC reserves the right to reject the grant award if this condition is not met by the applicant.
Cobb EMC reserves all rights to modify the requirements of the EV Grant Program, or terminate the program in whole or in part at any time and for any reasons without any prior notice.
Applicant agrees to grant Cobb EMC rights to usage data.
Ready to purchase your equipment? Below are helpful links to some EV charger manufacturers:
Ready to have your charger installed? Below is a list of electricians who can help you with your installation. As always, Cobb EMC recommends that all members receive at least two competitive bids before completing your project.
Questions about the program? We're here to help! Give us a call at 678-355-EVGO (678-355-3846) or email us at EVforBusiness@cobbemc.com.